A tell-tale sign that spring has arrived is spotting the first tulip in your garden or neighborhood. Their simplicity is enchanting and provides a refreshing comfort and familiarity that can only be experienced through popular springtime flowers. Tulips have a rich history full of cultural significance, symbolism, and pure beauty.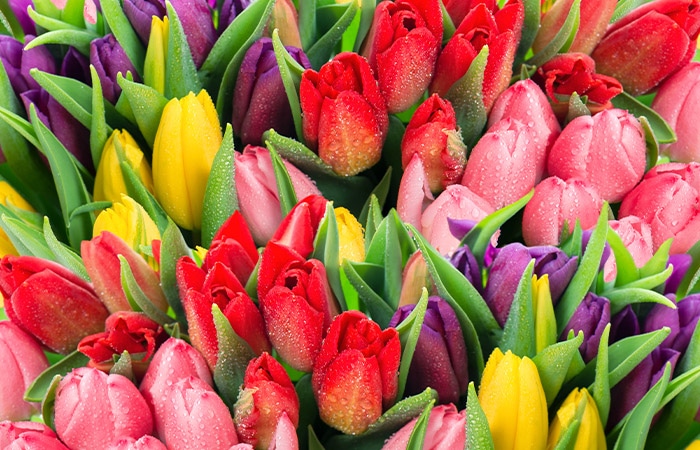 Characteristics of Tulips
As a member of the Tulipa genus and Liliaceae family, tulips are close relatives to lilies. Blooming in almost any hue except for true blue, tulips are quite colorful and easily recognizable thanks to their sophisticated, tight bell-shaped blooms. Tulips typically have three petals and three sepals, creating a nearly symmetrical flower.
Tulips blossom during spring, mainly in April and May, and will rebloom the following year. It is best to plant your tulip bulbs in the fall so they can establish strong roots before the frosty winter begins. While they can grow in any good, quality soil (compost soil is wonderful), tulips will flourish and thrive in well-drained soil that is four to eight inches deep. If tulip bulbs are subjected to moist or soggy soil for an extended period, there is a good possibility that they will rot.
Even when displayed in a vase, tulips will wind and twist their way toward the sunlight. To prevent dropping, displaying tulips in a tapered vase will better hold the stems in place. If your tulips begin to droop or lack pep, give the stems a fresh cut at an angle and place them in a fresh vase of cold water.
A Brief History of Tulips
Tulips are native to Central Asia and were first cultivated in Turkey. They eventually made their way to The Netherlands, where "Tulip Mania" took place between 1633 and 1637. Also known as "Tulipomania" and "The Dutch Tulip Bulb Market Bubble," prices for tulips skyrocketed, equaling hundreds of dollars per tulip bulb. At the height of Tulip Mania, some speculated that one rare tulip would sell for the equivalent of a Dutch mansion. As the bubble burst and the tulip market crashed, The Netherlands was left in an economic crisis.
Tulip Name Meaning
The word "tulip" is derived from the Turkish word meaning "turban," which has been used to describe the tulip's appearance.
Fun Facts About Tulips
The Netherlands exports the most significant number of tulips worldwide, approximately three billion annually.
Tourists flock to Keukenhof in Holland to admire the famous Dutch tulip fields, known as "the most beautiful spring garden in the world."
In Amsterdam, the start of tulip season is marked by National Tulip Day in January, where celebration occurs, extensive tulip gardens bloom, and people pick tulip bouquets for free.
Tulip bulbs became a food source during the Dutch famine of the Second World War. However, eating the bulbs came with uncomfortable side effects such as skin irritation and indigestion.
Tulipiere vases were specifically created to nestle and nurture tulip bulbs during "Tulip Mania." The design includes several spouts which single tulip stems bloom from.
Tulips are the official flowers for the 11th wedding anniversary.
Striped tulips were originally the product of a virus spread by insects called aphids.
Popular Tulip Varieties
With over 3,000 tulip varieties and 150 tulip species, these are the most popular.
Tulip Occasions
Lovely spring tulips are the ideal flower to display on your Easter table, gift to family, especially moms on Mother's Day, and freshen up your home after spring cleaning. Tulips are also the perfect go-to bloom for birthday celebrations and commemorating new life chapters, such as an engagement, new baby, promotion, and more. You can also turn to the symbolism of white tulips to express a sincere apology.
No matter the occasion, tulips are colorful, rejuvenating, and classic flowers that always bring charm and allure.