Send The Perfect Present
It won't be long before college students are headed back to campus! Growing up, leaving home, and generally testing the waters is a wonderful experience. You want to support them, give them the tools to be successful, and let them know you care. Send them on their way with a few of these essential college survival kit items! The designers at Mancuso's Florist have compiled a list of necessities every college student will be glad to have.
A Reminder That You Miss Them.
No matter how independent your student is, they still need to know they're missed, loved and encouraged. Send a sweet message to communicate all of this with flowers, a long lasting plant or poignant gift. Easy and beautiful, students will be glad to know you're supporting them every step of the way. 
Our Be Happy Bouquet features an over-sized, smiley face mug brimming with yellow and white daisies and roses. What a cheerful way to encourage your student in the first week of school! And, the mug can be re-purposed for sipping coffee during those late-night study sessions.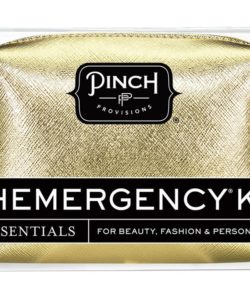 Make sure they're ready for whatever inconvenience life may throw their way. Our Metallic Shemergency® Kit by Pinch Provisions® features a Saffiano-style pouch filled with 40 beauty, personal care, and style essentials, in a chic, midsize shape! The kit's essentials are neatly arranged in interior pockets, making it perfect for busy students on the go!
Useful Gifts
Noise-Cancelling Headphones. Campus life is busy and brimming with activity. Sometimes it's hard to find a quiet place to work, but with noise-cancelling headphones, students can simply block it all out.
Gas/Grocery Gift Cards. College students are still learning the value of a dollar, so a gift card for a gas station or local grocery store will be more appreciated than you realize. Consider sending a "Thinking of You" card every so often with a gift card included, just to let them know you're there to help. 
Storage System. Help students create order in their small space with storage containers in varying shapes and sizes. They'll be able to make the most of their dorm room without sacrificing the comforts of home.
TV Streaming Device. Students need a chance to unwind after a busy day of classes, but may not always catch their favorites shows when they air. With a streaming device, they can watch what they want when they want, leaving no excuses for skipping class!
Your student is embarking on a memorable season of life. Send them off with the essentials and even a few non-essentials to show you care. For more great ideas about college gifts and treats, talk to the floral designers at Mancuso's Florist. We will be happy to help you choose the perfect design for your student's successful year at college.